Skin in the Game
Keys to Success in a Private Dermatology Practice
Dermatology is one of the medical specialties best suited for private practice.  The field is growing quickly and it is projected to maintain its steady growth rate over the next several years.  The rise in demand is fueled by increasing occurrence of skin cancer coupled with an aging population looking for cosmetic interventions to maintain their physical appearance, and the market is expected to reach $13.1 million by 2017.
Although Dermatology practices have the potential to be highly profitable, it takes careful planning to ensure success.  Physician owners must make sure that they account for the overhead costs associated with operating the business and off-set those costs with organized, deliberate action to generate sustainable revenue; gone are the days of just hanging a shingle and opening the doors for business.
If you are considering going into private practice, the following are important first steps in the process:
1. Decide what range of services to offer.
General Dermatology will likely be your bread and butter as a private practice because it will be the key to building your patient base, but procedures will generate the most revenue.  Offering a range of dermatology services is one of the best ways to ensure financial viability.  Procedures have the highest reimbursement rates, so you'll want to make sure your referral base can generate opportunities to perform procedures.  This works particularly well for Mohs surgeons, who may even be able to get referrals from other dermatologists.  Aesthetics services can be a big draw in some markets as well.  These services are performed on a cash or concierge basis, which prevents a practice from being wholly dependent on reimbursement from insurance companies.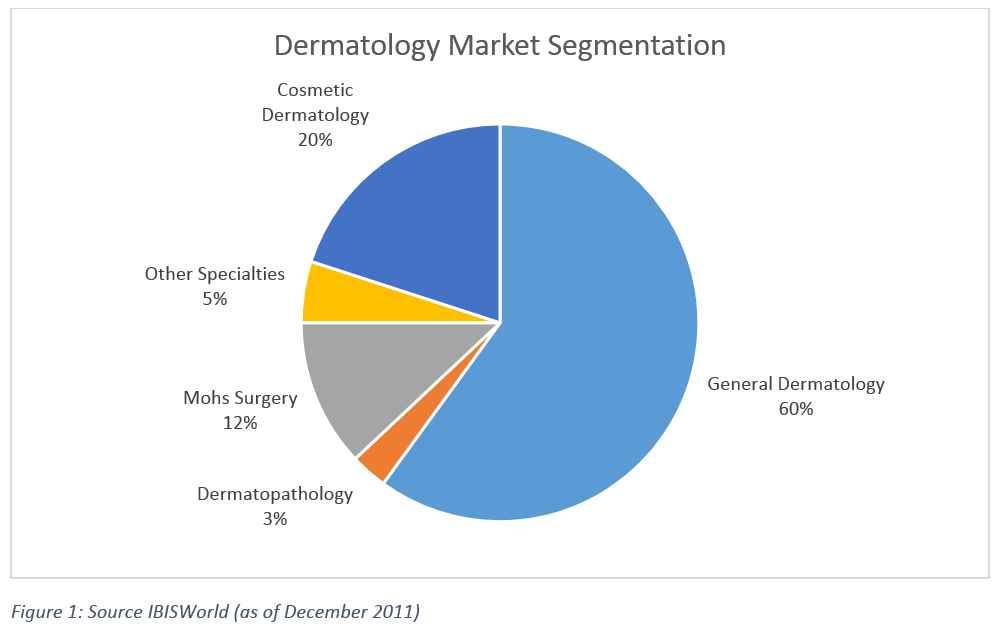 2. Carefully evaluate the local market.
It is important to understand the market when you start a new business, especially a private medical practice.  You need to know about the population you will serve as well as the competitive landscape.  What are the population demographics of the area?  Is there a local multispecialty group?  Do they have a dermatologist providing a full range of general and surgical procedures?  To whom do the independently owned primary care practices refer patients?  A healthcare consultant can assist you by performing a market analysis of your area, including a detailed competitor and referral analysis.
3. Assess the potential benefits of bringing on a physician extender.
Bringing on a Physician Assistant or Nurse Practitioner (and the additional staff required to support another provider) will increase staffing costs, but it can also substantially increase the revenue potential of your practice.  When considering whether to add a physician extender to your practice, a detailed cash-flow analysis is an important decision-making tool.  A consultant can help you analyze the financial implications of adding additional providers and develop a plan that will maximize revenue and minimize costs.
4. Be realistic about your plan for growing your Dermatology Practice.
It may not make sense to add another provider to the practice on Day 1 while you're still ramping up your patient population and drawing off of working capital.  It may make sense, however, to plan for adding a PA or NP to your practice in 6-12 months.  Likewise, even if you plan to incorporate a full range of aesthetic services in your practice, it may not be wise to purchase an array of lasers and light boxes before you see your very first patient.
These are just a few factors to consider in opening a private dermatology practice.  Although the specialty can yield high profit margins for physician owners, it takes carefully planning and consideration to successfully grow a business to its full revenue potential.  If you're ready to learn more about how to position your new or existing dermatology practice for success, MBA HealthGroup can help.
For More Information on this article click on Medical billing