Ready to start a practice?
Choosing to start a practice, from the ground floor up, is as exciting as it is terrifying. Whether or not your expertise is in healthcare, real estate, entertainment, education, or any other field, opening a new business is a high risk venture. The Small Business Association reports that only 49% of start-ups survive past 5 years. They cite the reasons for failure as: starting a medical practice for the wrong reason, poor management, insufficient capital, location, over-expansion and no website. We have worked with physicians for 20+ years, to open the doors of their own practice after finishing their residency, leaving a hospital position, or breaking away from a group practice. Our team approach, with you as a key player, has proven to be fail proof.
Our Services:
Business and Financial Plan (often required for a loan)
Market Research and Viability Study
Website and Marketing
Vendor Selection
Medical Billing Services
Floor Plan and Office Design
Human Resources
Patient Communication Platform (replace phone calls with texting for patients on a platform like OhMD)
We ensure that the practices we help open are successful
Our first step is to determine if the practice you envision can be financially viable. With our detailed financial tools, we are able to recommend "Go" or "No-Go". The financial information includes all revenue elements such as a fee analysis, patient volume and reimbursement expectations. The expense side clearly delineates payroll & benefits based on staffing, the largest of all expenses, as well as magazines in the waiting room and everything in between. This information serves as the business plan for your start-up and a foundation for preparing operational materials.
We've shown doctors from across the country how to start a medical practice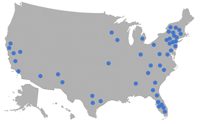 To keep the cost down, we can do 90% of the work remotely. We are also ready and willing to travel anywhere, anytime, upon your request. We will be there, when you open your doors, in order to ensure that everything goes smoothly.
We are uniquely positioned to offer you both breadth and depth of expertise. This differentiates us from the "consultant" who learned how to open a practice and now is advising you. We have over 100 employees are at our corporate office processing claims, managing staff, paying bills, building content for the electronic health record, writing interfaces, dealing with phone systems, etc. This is all "business as usual" for our staff and your MBA advisor has that wealth of knowledge at his/her fingertips.
How we'll help you start a practice
MBA determined that when starting a new practice, it's best to approach it in a few phases. Phase I research answers the question, "If I do A, B, & C, is the probably of being successful be high?" If the answer is "yes", we move to Phase II. Phase II is the exciting part. This is the move forward, "let's make this happen phase". If you partner with our experts to perform Phase II, we guarantee your satisfaction. Since we are known for caring as much (almost) for your practice success as you do, guaranteeing our work is easy.
Phase 1: Research & Data Collection to Determine Financial Viability
Discuss reasons for starting a practice and ensure they are the "right" reasons
Define estimated timeline
Choose a potential location or location options and prepare a market assessment to define the competitive nature of the location(s)
List services to be offered to estimate revenue to be generated
Estimate staffing and related payroll & benefits costs
Prepare initial cash-flow analysis
Define all capital funding needs to include pre-opening, opening and ongoing operational financing
Determine "Go" or "No-Go"
Secure funding, if needed (Note: Lenders trust MBA, so funding is forthcoming if recommended by us)
Phase 2: Start to Finish
Build team of experts to include you, an accounting firm, a legal firm & a management firm
Secure a space and coordinate office fit up
Research and define low cost /high value insurances, to include malpractice & office insurances
Initiate and monitor the credentialing process
Activate and monitor marketing initiatives
Assist with HR fundamentals for the practice: recruiting, determine employee benefits and create a draft of the employee handbook
Deliver HIPAA & OIG compliance plans
Choose an option for revenue cycle management (medical billing company): In-house vs. Outsourced, secure a quote and monitor the process
Choose optimal EHR option, secure a quote and monitor process
Work closely with financing institution to ensure timely disbursement of funds
Plan "Go-Live" and be on-site one day before and opening day
Continued part-time executive management is an option after opening day
Need Help Starting a Practice? We Can Help!